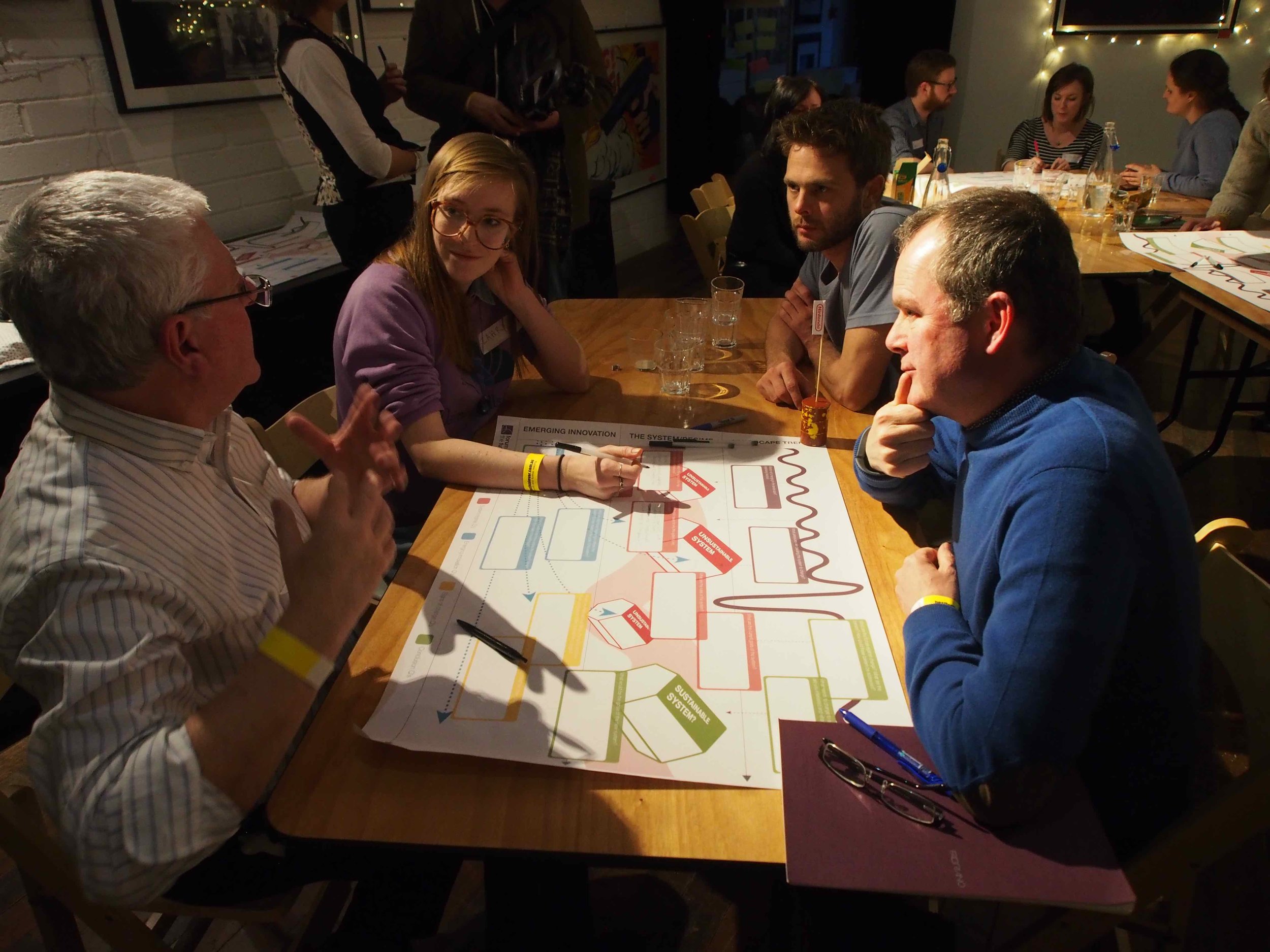 Boho Interactive offers science-based workshops that help companies solve business problems.
Through hands-on gaming and interactive theatre, we help businesses engage with key principles from complexity theory and resilience thinking.
Boho use gaming, narrative scenarios and playful exercises to explore key concepts from complex systems science, and how they impact on your industry.
Participants develop their ability to work as a team, to respond creatively to challenges, and their decision-making procedures.
Participants will receive:
An understanding of key concepts from complex systems science and resilience thinking
A systems thinking primer
A visual systems map of their own organisation identifying potential thresholds, tipping points, risks and opportunities
These workshops have been developed in collaboration with research scientists from institutions such as University College London, the Stockholm Resilience Centre, the Earth Observatory Singapore and CSIRO (the Australian Commonwealth Science and Industrial Research Organisation).
MENU OF GAMES / WORKSHOPS
Choose from one of our pre-existing game / workshop packages and we will work with you to customise it to your specific business challenges.
Get The Kids And Run
What management lessons can we learn from volcano and typhoon evacuations? In 2018, Boho worked with the Earth Observatory Singapore to create a series of games to help government officials in south-east Asia prepare for natural disaster events. We have curated a selection of these games into a short workshop for businesses to help them develop their crisis management capacity.
Time: 3 hours
Run A Bank
This game examines the impact of climate change and extreme weather on a financial services provider. Players take on the management of an interactive scenario in which multiple shocks impact the business in quick succession: logistical, financial and reputational.
Time: 3 hours
Systems Mapping Workshop
Using the tools of Resilience Assessments, we help participants map their own business as a system. Through a series of exercises, participants will develop a picture of their organisation, the sub-systems it is made of, and the broader ecology it is part of. This map will help identify where the business is resilient and where it is fragile, and help participants think more systemically about challenges and opportunities.
In the second part of this workshop, we turn this map into a game. Participants take charge in an interactive scenario in which multiple shocks impact their business in quick succession.
Afterwards, participants will receive the visual systems map of their own organisation, identifying potential thresholds, tipping points, risks and opportunities.
Time: 1/2 day
Systems Mapping for Creative Development
A workshop for artists, game-makers, writers and designers. Boho has developed a method for using the tools of systems science to develop interactive performances and games. In this workshop, we explore how systems science can be applied to the arts, and how systems mapping can act as a crucial foundation for a creative collaboration.
Time: 3 hours
Best Festival Ever: How To Manage A Disaster
In this exploration of complex systems, players take charge of a music festival. Over the course of 90 minutes, participants take on every aspect of the festival's management, from choosing the bands, engaging the sponsors, building the festival site, and managing the crowds when it all goes wrong. This is a fun, playful exploration of resilience thinking and the challenges of managing a complex system.
Time: 90 minutes + optional debrief
Save Our School
This game looks at the challenges of operating in the public sector and in service provision. Players manage a secondary school, and must work together to keep the school afloat during a disastrous week.
Time: 3 hours
Game Design Workshop
If you want to understand complex systems, don't just play games - make games.
One of the best ways to illustrate the behaviour of real-world systems is to turn them into games. Games bring together systems models, design thinking, creative storytelling and facilitation. In this workshop, participants will learn the core principles of game design that Boho use in their work, and then use these principles to create playable game prototypes based on their own organisation.
This is a unique and playful way to see your organisation from a different perspective.
Time: 3 hours